About Us
Our Story
After years of shift work, driving the same route each day, sitting in the same chair, looking at the same computer, I decided it was time for a change. Time to step out on a new adventure and chase dreams; me and my girls! Wild cactus was built from a small conversation I had with Brianna one day in my she-shed…. It was all she wrote. She is the true backbone of this small dream we have now been chasing for almost four years. She does the grunt work and I am behind the scenes. My youngest, well she just tags along and is most often your delivery girl. Here at WCB we don't follow the fashion trends, we simply make my own! Whether you are looking for something to satisfy the cowgirl in you, the worker bee, that uptown girl, or your boho vibes, you can ALWAYS find something here! Thank you for supporting small dreams!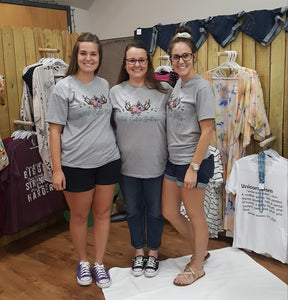 Testimonials
Great products and TOP NOTCH customer service! I love every item i have purchased here!

A.S
Super soft shirts and FAST personalized customer service. LOOOOVE this boutique!

M. Rich
The girls are very friendly, helpful, and all around fun to shop with. My husband even likes the shop! The clothing is comfortable and affordable.

Mitzi P.